We welcome another Neighbours cast member to the PirateNet Studios and it's actor BEN HALL, a.k.a Ned, a.k.a Natalie Imbruglia's TV son, a.k.a, everybody's TV boyfriend and yes, we lost our tiny minds.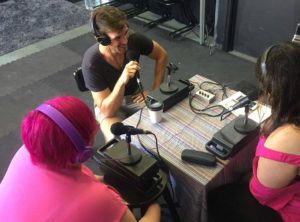 Somehow it happened. Ben Hall did the podcast. Regular listeners of Neighbuzz are well aware that Ned's attempted seduction of his father's girlfriend was one of our biggest Neighbours story highlights in recent times, and Vaya became a little smitten (yes, thank you, obviously that is an understatement).
Since Ben has wrapped up his run as Ned and is clear of conflicts of interest, we issued him with an invitation to th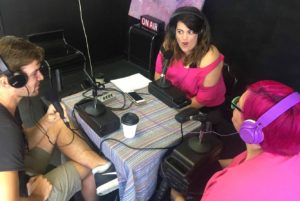 e PirateNet Studios the only way we know how – sweetly, repeatedly and via Twitter.  And he accepted. Because some people are just that great. And he watched four Neighbours episodes in preparation (even though we only asked him to watch one) because some people are just that great. So, this episode happened. We talked Nedbours with Ned for an hour. Did we hold it together? Barely. Did CJ and Vaya accidentally both wear pink like it was October 3rd/ Mean Girls Day? Yes. Is there anything you wish we'd asked him? Of course there is, so Tweet him– he's happy to answer you! Because some people are just that great.
See Ben Hall in the musical 'Only Heaven Knows', May 2017 in Sydney.