In the 79th episode, CJ, Kate and Vaya are back in the PirateNet studios in Melbourne!

CJ, Kate and Vaya cover the week of September 18 in the PirateNet Studios, recapping Papa Roach's $35 million tax bombshell and jaunty boat heist plan; the Ceramic Massage/ excuse for the Neighbours story team to come up wi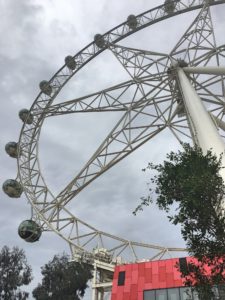 th a bunch more hand-job innuendo; plus the least romantic setting for a love triangle: the wheel at Docklands.
The wheel is not as interesting as the London Eye, because Melbourne isn't really known for its skyline. We're more of a liveability kind of city, you know? *smirk* So no bloody clue why we have this wheel. Vaya works right next to it at the moment and is much more excited by the Costco underneath it.