In the 54th episode, CJ, Kate and Vaya cover the week of November 21 in the PirateNet Studios and Vaya chats to Madeleine West about the return of Dee Bliss! Enter here to win a signed copy of Madeleine's book…
This week, Angus can't control his wangus; Fifi Box reaches peak cartoon villain levels; Sonya has a pro-life dilemma before her eggs are even fertilised; and Nana Tanaka's dying words are a lot less ambiguous than Rosebud…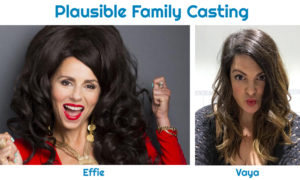 Supplementary material for this episode:
We got to chatting about the lack of family resemblance between the Tanaka twins, despite the actors being from the same ethnic background. Kate wondered if Vaya and Effie could pass for TV twins… what do you reckon? Long lost cousins of Terage?
Also, voting is now open for the 2017 Logie Awards and Neighbuzz is throwing its full support behind #Toadie4GoldLogie! More campaign details to come…
Thanks to @Neighblog and Madeleine West for contributions to this episode.
Watch our Vlog of Madeleine's book reading!