In the 71st episode, Vaya takes the PirateNet Studios to Sydney!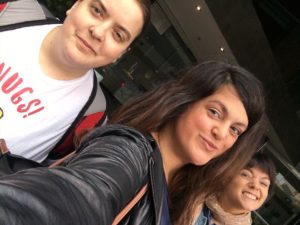 Vaya is joined by special guest-hosts, Rebecca Shaw and Jelly to recap the week of June 12, 2017 on Neighbours.
Bec is better known as Brocklesnitch, Australia's queen of Twitter and author of the excellent book 'No to Feminism'. Jelly is better known as Jellyfish and is the namesake of Nellyfish Rebecchi as well as a gun teacher and host of the Stage Door Podcast.
In this episode, we explore Junktime's Ep 70 theory that Millsy is morphing into a werewolf; Jelly talks us through the logistics of Erinsborough High's new vertically-integrated classrooms; and Bec bonds with Puffy Rebecchi over his ill-fated solar-powered lawnmower.
While in Sydney, Jelly and Vaya got to see friend-of-the-podcast Ben Hall star in the musical 'Only Heaven Knows'. Subscribe to Stage Door Podcast for their review of the show – coming soon!